Family Genealogy Trip to Italy.
Day 14: Thursday, 1 November 2018, morning.
Solofra, Avellino: Ognisanti—All Saint's Day
We started the day with a breakfast visitor: distant cousin Alfonso Buongiorno. He told us a little history of his family as tanners in the town and asked, "Would we like to visit his home later in the afternoon to see his family tree and talk more?"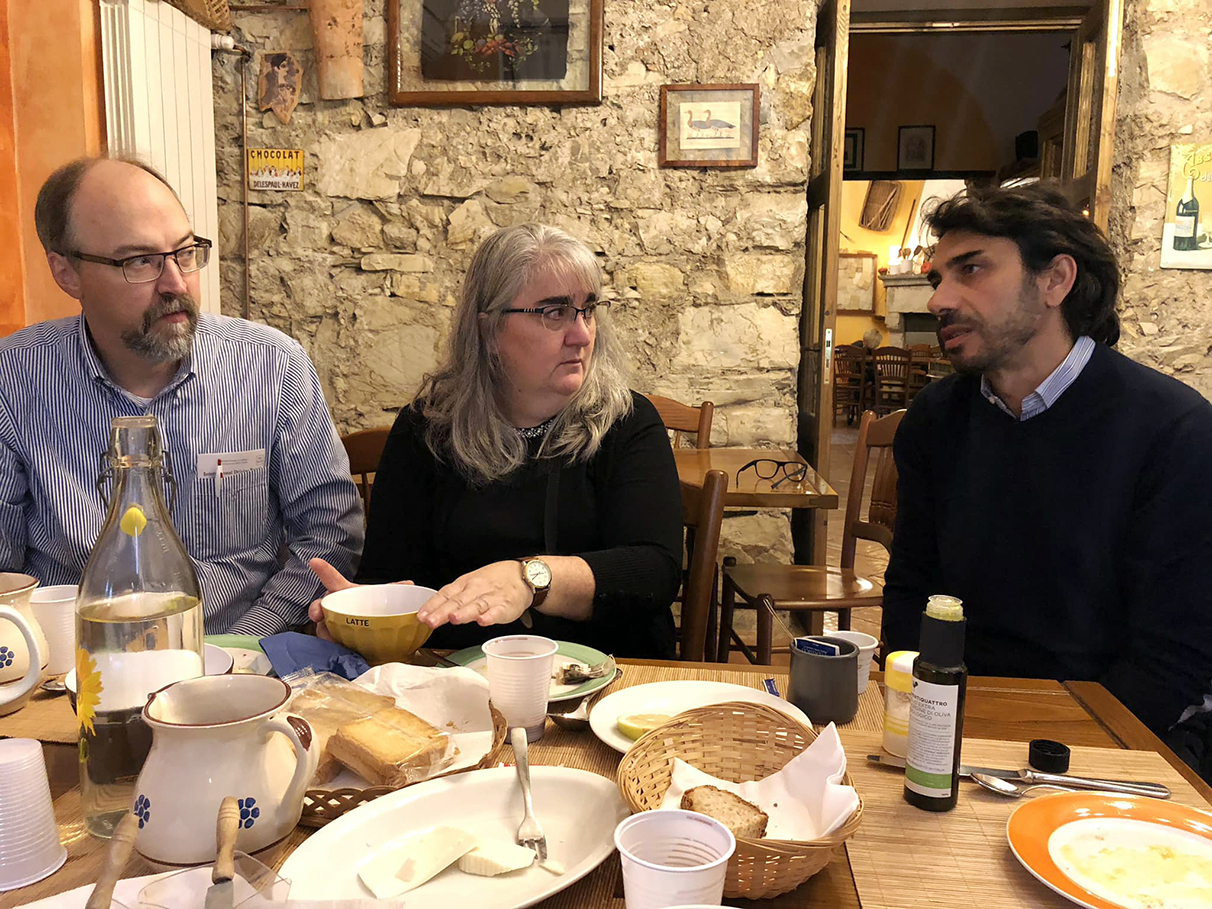 "Hell yes, we'll be there," I was thinking, but I held back and pretended to wait for my family members to discuss it and come to a group decision. Arrangements were made and he left.
Then we trooped into town to attend the holiday mass in our family's church. Feminists all, we were favorably impressed that the pastor, Father Mario, made it as progressive as he possibly could within the "rules" of a Catholic mass. Women parishioners helped served communion, and young girls did a reading.
After mass, we followed the crowd to the nearby cemetery, as visiting the dead is what you do on All Soul's Day. It was down a hill about a mile away.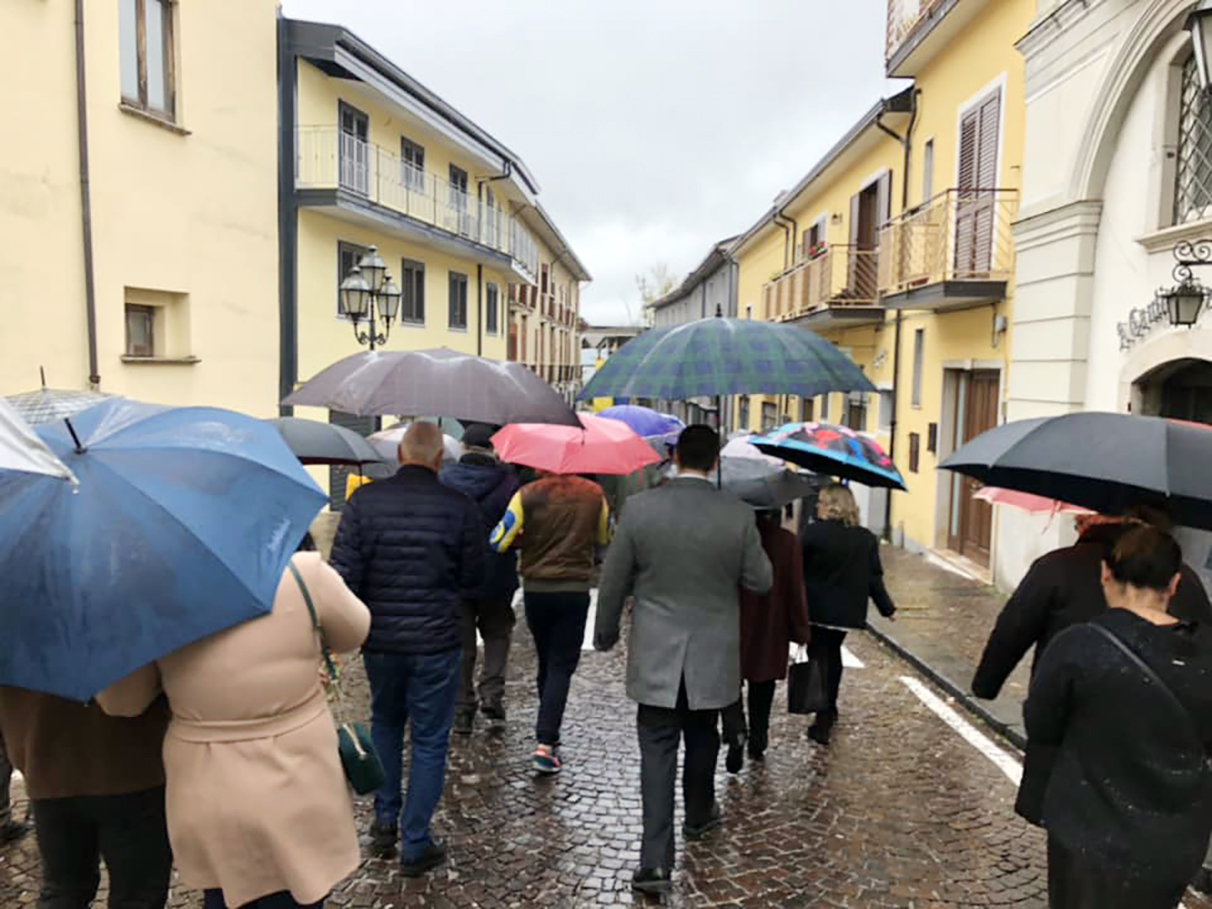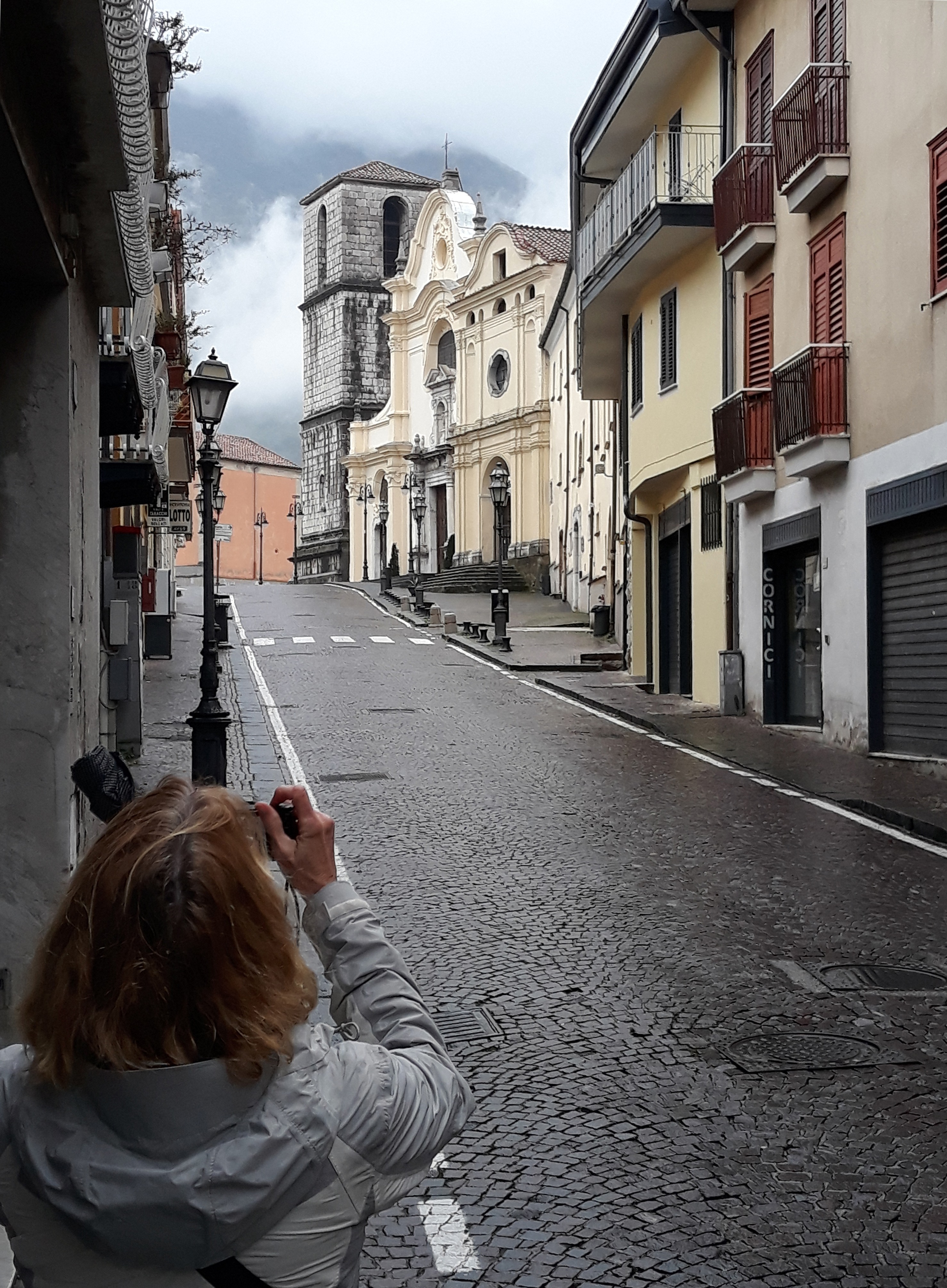 I walked with my sister Loraine for a while. She spied a broken-down chapel and asked if I wanted pictures of it. "Yes, thank you." I didn't tell her that it was one of the 5 or 10 "historic" buildings in town I had spied (and marked on a map) while "walking around" via Google Earth 10 years ago—checked that box. (By this point, I was keeping mum about some of my "planning lists," as my family members were already worrying that I was a bit "around the bend" with my agenda for this trip.)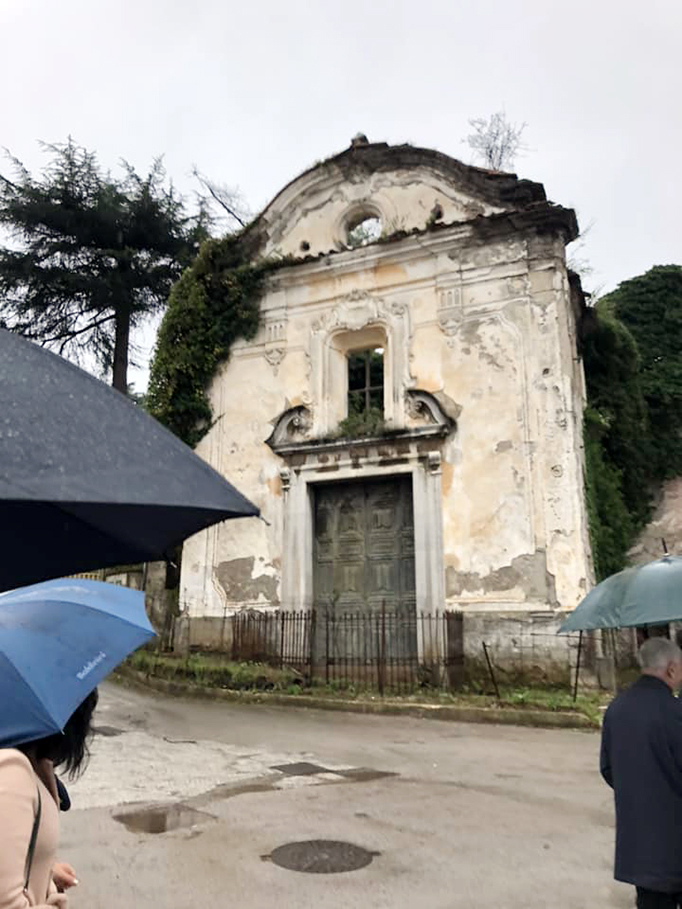 It was hard to imagine what Solofra looked like when our family lived there in the 1800s, because the 1980 Irpinia earthquake hit this town hard. Some buildings, like this chapel, were left as ruins, while others were rebuilt with new finishes (covered with a thick coat of cement-like material which ruins their historic appearance) or are completely new..
I'm a pokey walker and was lagging behind my family after 10 minutes or so, when…I got a ride! I spied an elderly man I had met the night before (in the church) in a car, waved like a maniac, knocked on the window, and he said, "Sure jump in and get a ride from my son-in-law" (the driver.) I pretended to chat and understand what the three of them were saying in Italian while cruising down the hill to where I met my family members who hadn't even realized I was missing.
My sister Loraine got pulled out of the route by a local elderly woman who wanted to show Loraine her church, which was along the way. So Loraine went in and dutifully walked around for a few minutes.
Loraine and I found this happened routinely in both of our grandfathers' small towns which we visited. People were interested in us and proud of their town and wanted to show us things. They also routinely didn't care that we didn't understand their non-stop Italian chatter.
The cemetery was interesting. There were lots of tombstones with photos on them and lots of mausoleums with family names on them,  including names that we recognized, but we learned that none of them were going to be relevant to us: too new. We were told that graves (in most of Italy and much of Europe, apparently) are re-used after 50 or so years, that the bones that are dug up and put in common ossuaries without specific records of who is in them.
In all the years I've spent preparing for this trip, and in the flurry of emails during the last month before I left the U.S., someone couldn't have told me this crucial detail?
Our ancestors left Solofra in the late 1800s and died in other places—Naples or the U.S. The graves of any family members before them who had been buried in Solofra had been recycled years ago, so we were not going to know anyone in this cemetery.
That kind of killed our interest, but I took a few photos of the more flamboyant tombs anyway, including this Egyptian style monument which can even be seen from the road outside the cemetery (Google Earth photo inserted because I can't find my own shot), and this grave of a Russo that has a photo (of the dead guy), for my friend Bill Russo of New York, in case they are related, as his family is from Montoro Superiore, a town that is only a mile away from Solofra.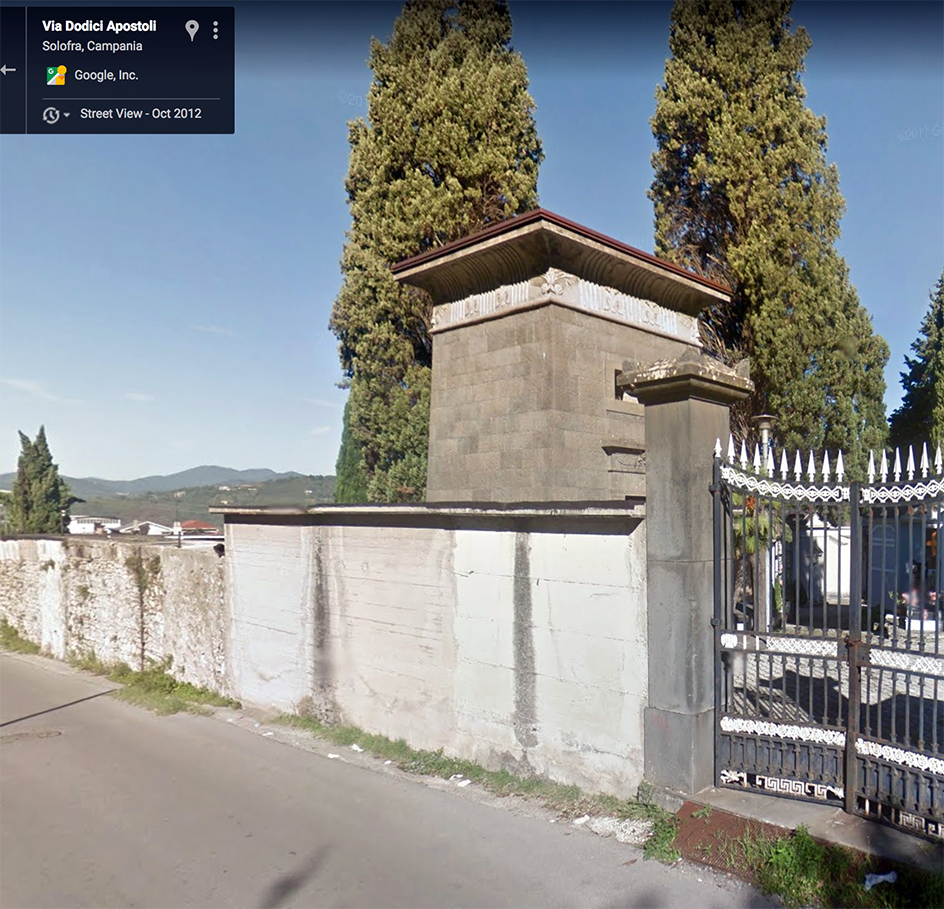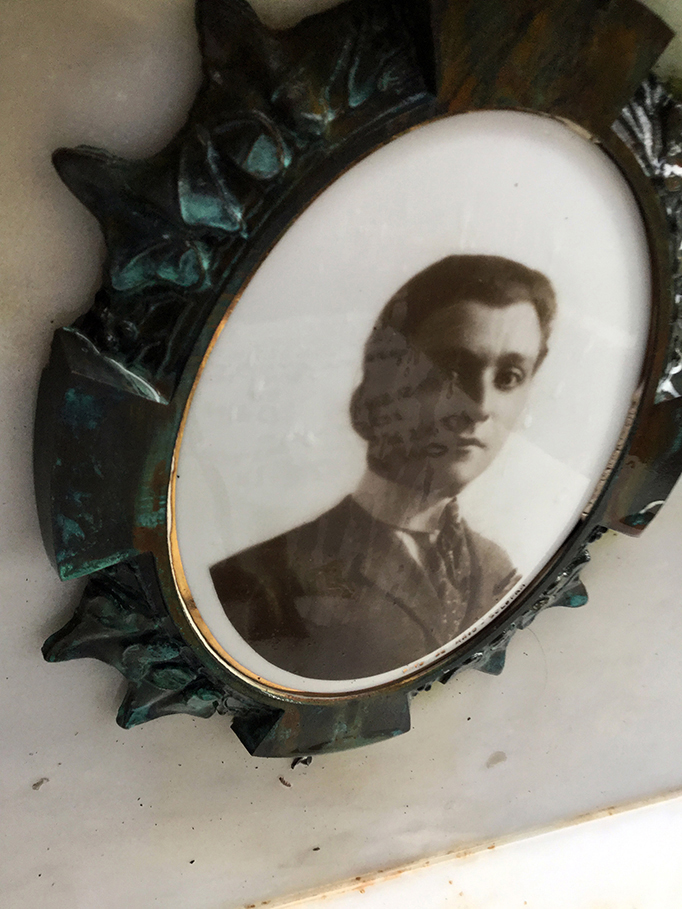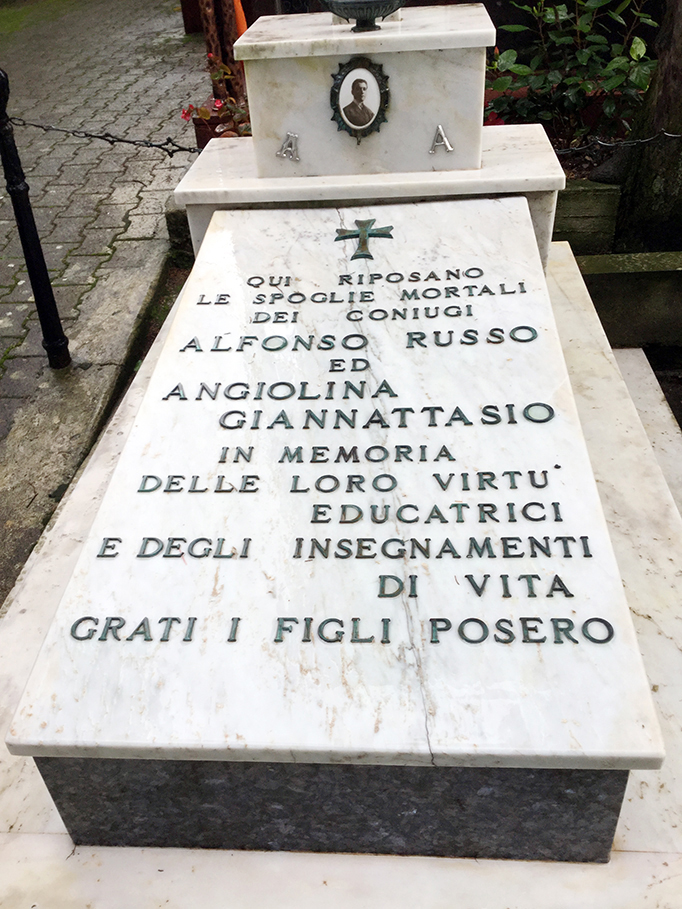 So the cemetery part of the "genealogy experience" of this trip was a bust. But it helped Loraine and I refine our plans for the second, small town we were going to visit. When we went to our other Italian grandfather's home town the following week (in Abruzzo), we skipped its cemeteries.
We left the Solofra cemetery and went back up the hill for lunch in the main part of town. Then we went back to the Agriturismo to clean up (it had rained all day) for our visit to Alfonso Buongiorno's house.
Thanks to my sister Loraine Carapellucci, and to cousins Julie Holm and Lisa Hamm-Greenawalt who shot many of the photos in this post.