Family Genealogy Trip to Italy.
Day 13: Wednesday, 31 Ottobre 2018.
Travel from Napoli, Campania, to Solofra, Avellino.
Busy day.
We got up early, hustled to the train station, hustled to figure out how to buy the correct train tickets in a vending machine that was in Italian, figured out whose internationally registered credit card to use so it wouldn't get rejected for being foreign (Julie's), and hustled to get on the correct train. The one-hour ride to Salerno was pleasant and uneventful. It was a brand new train on brand new tracks.
We hiked through the Salerno station and crossed the street to a rental car place which was reasonably efficient (for Italians) at producing a car in under an hour. Then we wormed our way through local streets to get out of town and headed north on a highway. My sister Loraine was the navigator looking at Google maps or something on her phone and telling her husband Dave, the driver, directions, where to turn, how far to go until the next decision point, etc. It worked splendidly.
In Solofra, we went directly to the Collegiata church, figured out where to park, met our hired guide, Giuseppe Guanci, and got to the city hall by noon for our appointment with Lucia Petrone.
Big breath of relief.
Lucia is lovely and gracious—and speaks machine-gun-fire Italian. Giuseppe can hardly keep up, and when he's translating to English for us, she interrupts him to tell him even more information in Italian. We hear about the city hall (former palace of Orsini family feudal land owners) and the Collegiata church (La Collegiata di San Michele Arcangelo), all of which I already knew.
It was the afternoon before a 4-day holiday weekend. Lucia had promised us two hours, and I think she was feeling the pressure, as much as we were, to pack those two hours with information.
Me: What about Donatus/Donato Buongiorno? He worked on a restoration of the Collegiata in 1908…?
Don't know anything about that, but if you want to provide a (mural-size) copy of one of his paintings, we will frame it and hang it in our fancy meeting room here at city hall with the Guarini paintings (reproductions) we already have on display.
Not shabby company for Buongiorno, I think to myself, and make a mental note to follow up on this.
Lucia insists she must show us the church, so we go downstairs, cross the street, and go inside. In one of the big side chapels, Lucia tells us why the painting by Guarini is important: because the figure's feet are dirty. Because that is proof that Giovan Tommaso Guarini, the Solofra-born artist of many of the paintings in the church (including the stunning scenes on the ceiling), did study with Caravaggio (in Naples)—because Caravaggio famously painted figures in religious paintings with dirty feet. (Caravaggio was an early modernist who re-introduced naturalistic details to reverent scenes.)
Then Lucia took us next door to the former convent and school, part of which is now the town's public library. A few specific books had been pulled to show us. The librarians, or some other people, were hovering nearby, waiting for us to finish, no doubt, so they could leave early on the holiday evening. Lucia had those people make xeroxes for us. Julie shot photos, Giuseppe continued to try desperately to keep up with Lucia's talking, and the members of our party surreptitiously took turns slipping out to use the library's bathroom.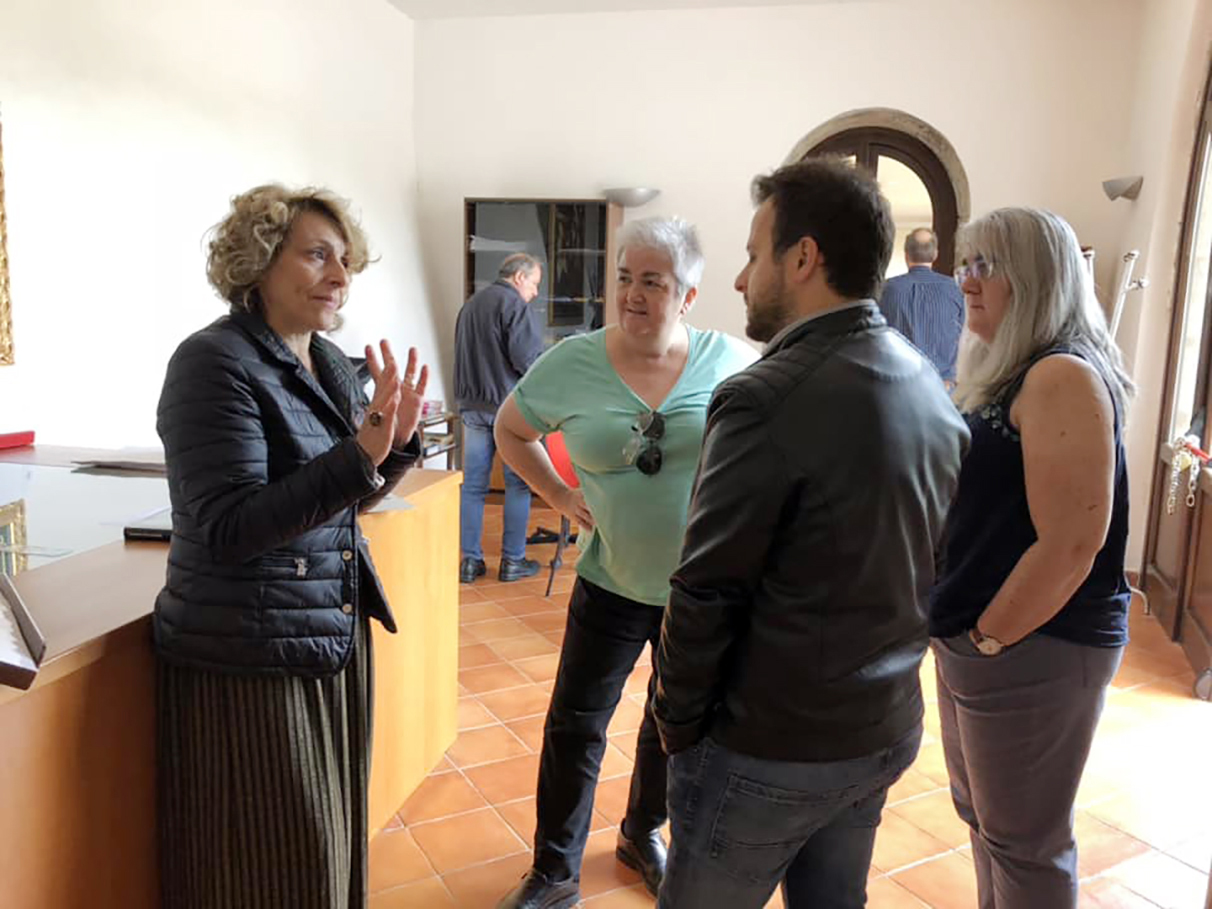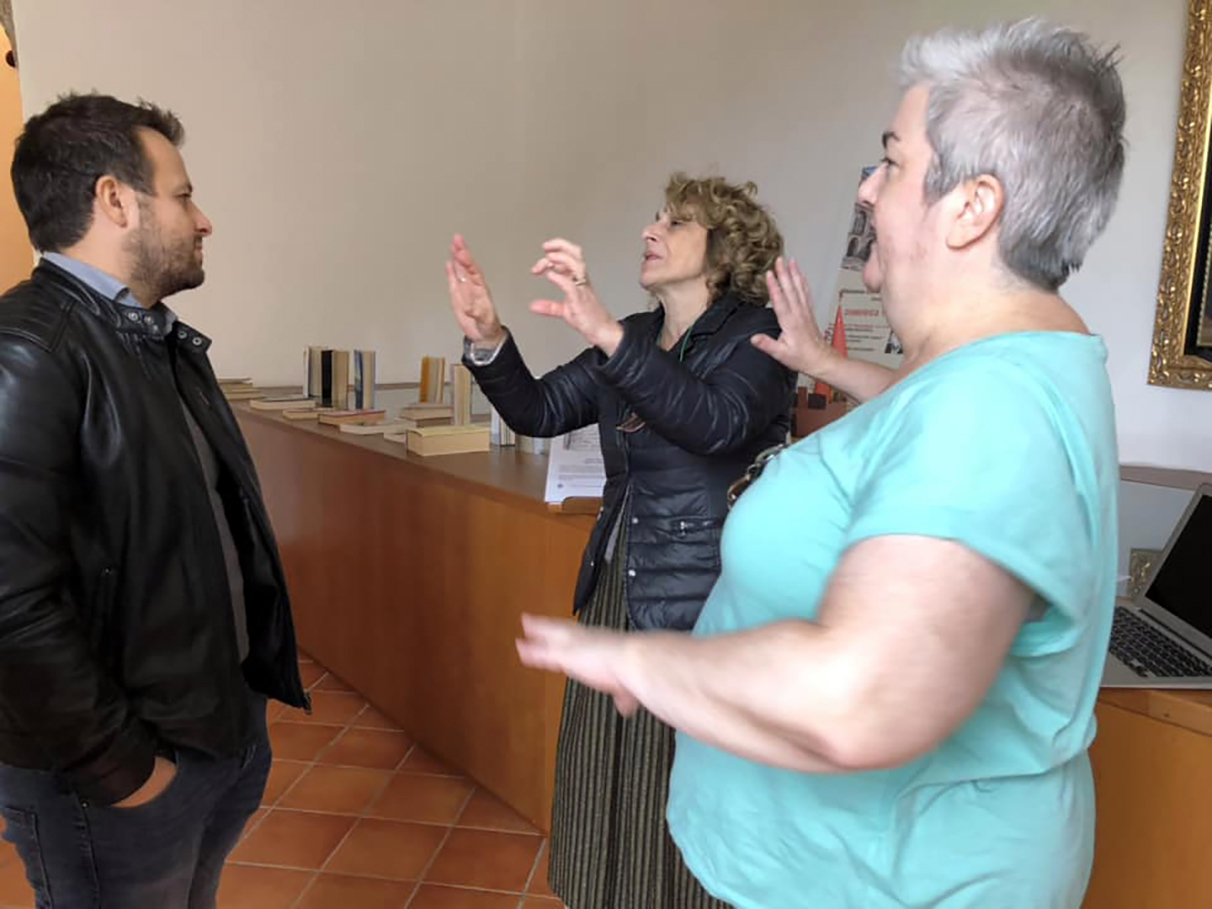 What a head full. I was exhausted trying to keep up with her, and frustrated that she didn't know anything about the topics I am interested in: Donatus Buongiorno's career, our family's tenure in Solofra, etc.
She had to leave at 2 pm. We went back out front. We asked for a recommendation of a restaurant for lunch, and she pointed to La Taverna del Principe across the piazza.
We said goodbye and walked to the restaurant. I invited Giuseppe to join us. What a gold mine. Not only did it give him another two hours to translate for us, but he's a gourmand who also narrated about the food—of which he approved. He told us that he's no longer working as a genealogist, actually, but now runs gastronomy tours of the five provinces of Campania—Napoli, Caserta, Avellino, Benevento and Salerno. We let him order for us and choose all the wines.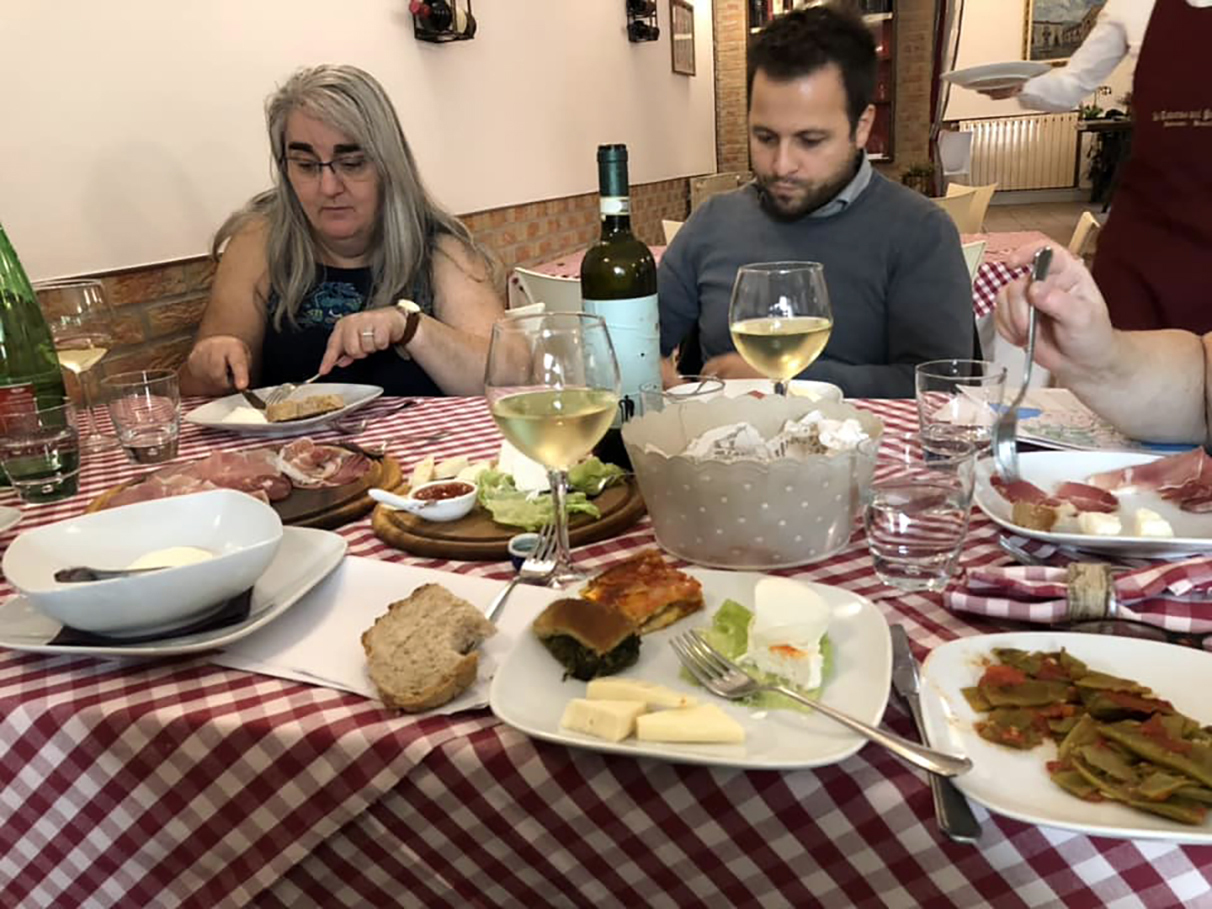 If you are ready for a gastronomy tour of Italy that your friends who have been to Umbria and Tuscany can only dream about, give this man a call:
Giuseppe G.
Consulente di Viaggi | Aj54
Agenzia di Viaggi /Travel Agency | Aj54, very Authentic Journeys | Via Manfredi, 54 – 83042 Atripalda (Av) | Italy 
Tel./Fax. +39 0825 460358 | M. +39 340 3137039
[email protected] | www.aj54.it
After lunch, he walked us to the best dessert place in town—Caffé Vignola—then said goodbye.
The night before, he had sent me some items he photographed at the Avellino library for me. Not until I was back in New York did I look at them and see that they are the 1911 articles about Buongiorno from Le Rane, a vintage local newspaper, which Mimma De Maio, town historian, cites on her site. Yeah!
We sat for coffee and pastries and tried to catch our breath.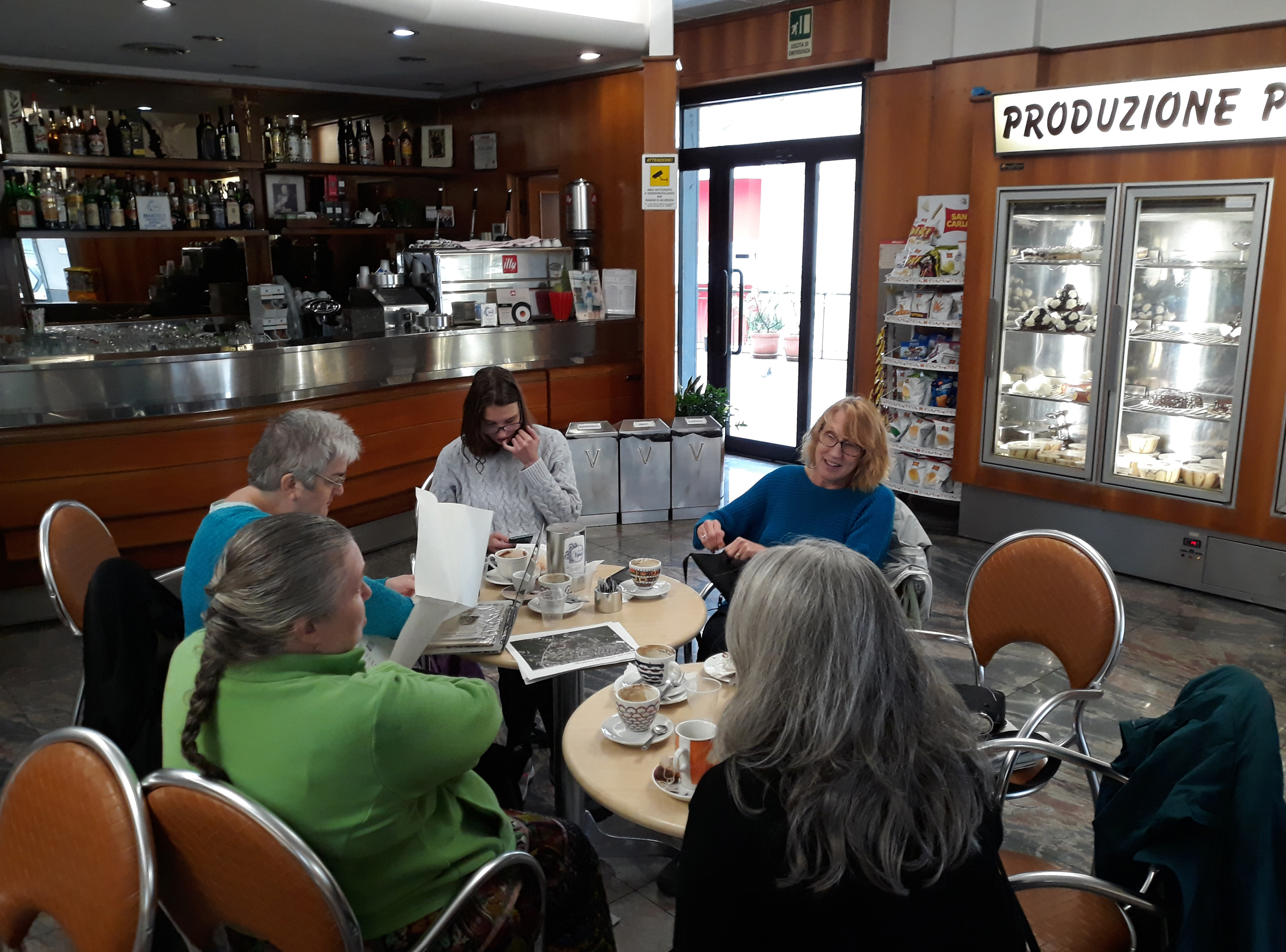 Then we went back to the church to explore at a more leisurely pace. We chatted with "Don Mario" (Monsignor Mario Pierro), the pastor, and met some old men who seem to spend their days hanging around the church. (Curiously, the hang-arounders in New York City Italian Catholic churches are usually elderly women.)
We explained who we were, and, like Lucia, they shrugged at my story of Donatus Buongiorno restoring paintings in the church in 1908, but as soon as they heard "Canonico Troisi," the flood gates opened. Canon Carmine Troisi, 1866-1948, pastor of the collegiate church for 50 years, was my great-grandfather's brother. There's a plaque with the priest's name on the front of the church, and everyone in town knows who he was.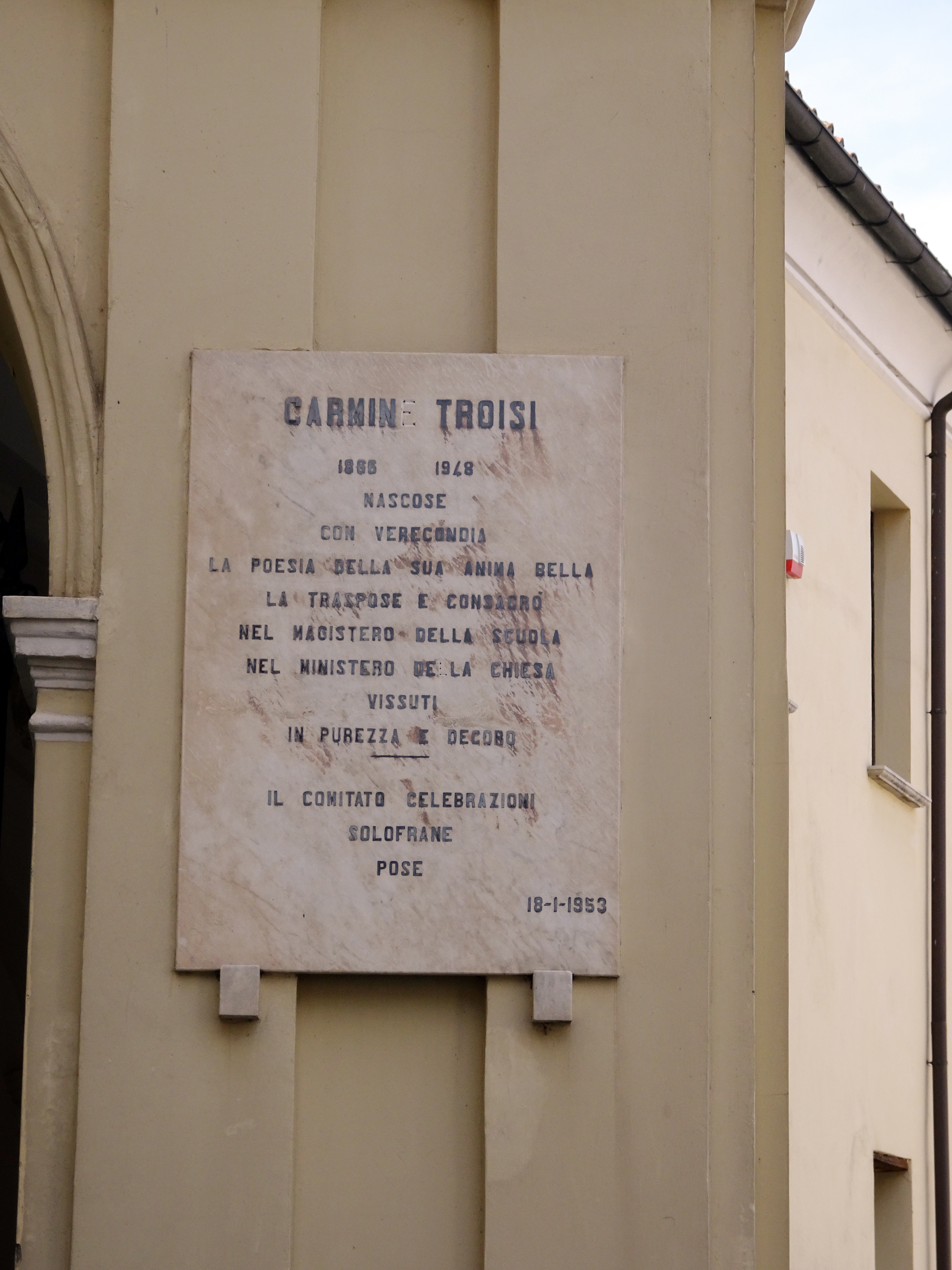 A few of the men took us into the sacristy to see its paintings (and a glass ossuary holding someone else's bones including a skull, which was totally gross), and another room where Carmine Troisi's bones are buried in an ossuary under the floor which has a carved, marble, plaque-like cover. He's buried with other priests, too, we think—the translating was getting a bit shaky by this point. Then they showed us the farthest-back room, which looked like a school room, which they explained is where Troisi actually died. He had a heart attack or something during catechism class, apparently.
Whew.
So we visited great-grandpa's brother the priest thoroughly. The priest for whom our great-grandmother, Maria Michela Buongiorno, Donatus Buongiorno's sister, worked as a housekeeper before marriage, which is how she met great-grandfather Beniamino Troisi. They were married in this church in 1877. Have I adequately explained why we needed to visit this town?
Done with downtown Solofra for the day, we drove up the hill on the north side of town to the Terranova Agriturismo Solofra to check in. Cousins Lisa and Lexie were already there, having come directly from Naples separately from us. Our hosts, Maria Buonanno and her father Norberto Buonanno, are lovely. Later in the evening, Maria cooked us dinner and shot this group photo. (Signor Buonanno is at the table in the back on the left.)