Family Genealogy Trip to Italy.
Day 14: Thursday, 1 November 2018, afternoon.
Solofra, Avellino: Visit to Casa Buongiorno.
As promised, Alfonso Buongiorno arrived at our Agriturismo (with his brother-in-law, whom he enlisted to drive a second car) on Wednesday afternoon to take us (party of 6) to his home on a hill above Solofra. Alfonso, his brother, and his father Francesco own one of the tanning businesses in town, and they have new homes near each other in a "compound" that they built on the side of a hill above the old part of town.
When I walked in and saw 19th-century paintings on the walls, I knew I had found a soul mate. Alfonso said, "They aren't expensive. I buy what I like." I smiled and made a mental note for a future project: get Alfonso interested in hunting for Donatus Buongiorno paintings that are in Italy.
We met his wife Maria Giaquinto, who is an Izzo from Montoro Superiore, a nearby town. Remember New Yorker Bill Russo whose parents were both from Montoro Superiore? Bill's mother was Anna Izzo. I felt the spirits starting to circle.
Bill actually found Alfonso for me. On Facebook, of all things. Much as I hate that site, I'm grateful it worked for this, because meeting Alfonso Buongiorno was a highlight of my trip to Italy.
Next we met Alfonso and Maria's two teenaged children, Raffaella and Francesco, who couldn't hide that they were a little annoyed that company arrived just as they were planning to go out with friends, and they were now expected to linger and be nice. (The ritual for the holiday, apparently, is that adults go to the cemetery and youngsters go to parties.) I didn't catch all of the words, but I think the gist of the whispered conversation was "Daaaaaad….," followed by "Just stay for a few minutes and be polite."
Next Alfonso guided us to his office in a corner of the living room and on the wall was this beautiful artwork of his family tree. Holy moly.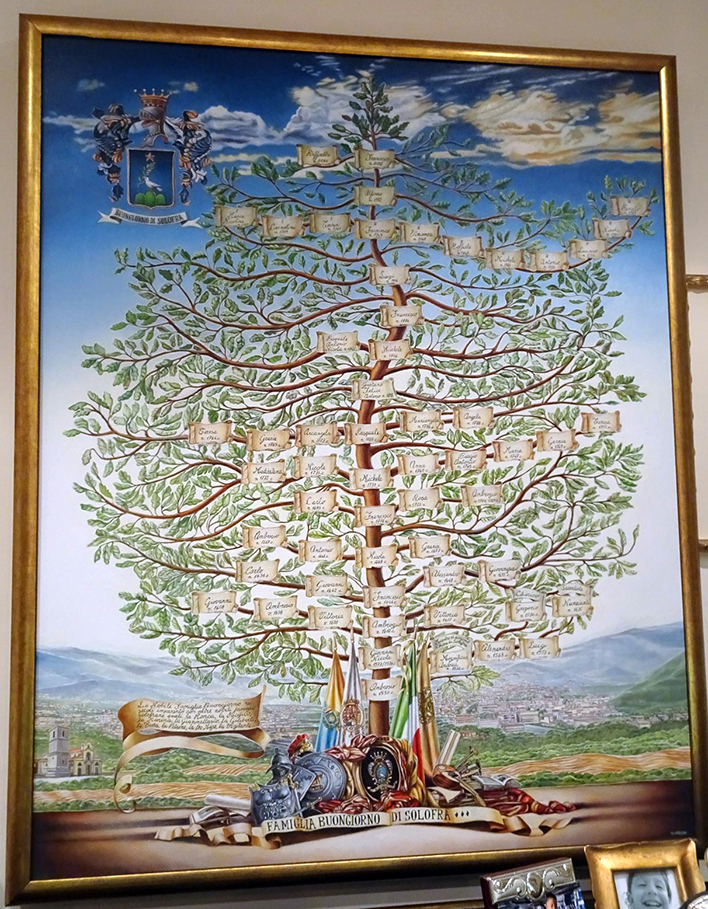 Then he pulled out a rolled up sheet with the family tree of "our" Buongiornos which I had emailed him before the trip (an org chart of boxes generated by a genealogy software program, with not-such-nice artwork). It was poster size. He ordered a digital printout somewhere.
(My work goes back to the 1850s and is based on vital records on microfilm I spent three years of Saturday afternoons reading at a Mormon Family History Center in Brooklyn. You're welcome, Buongiornos and Troisis.)
Alfonso says, "I have figured out how we are connected. This Michele," points to a leaf on his tree, "was a brother of this Biagio," points to my chart, identifying two men who lived in the 1700s.
We are thrilled, and my cousins start snapping photos of all of us, of the "evidence," etc. (Thank God they were there, because my brain was too overloaded to deal with a camera.)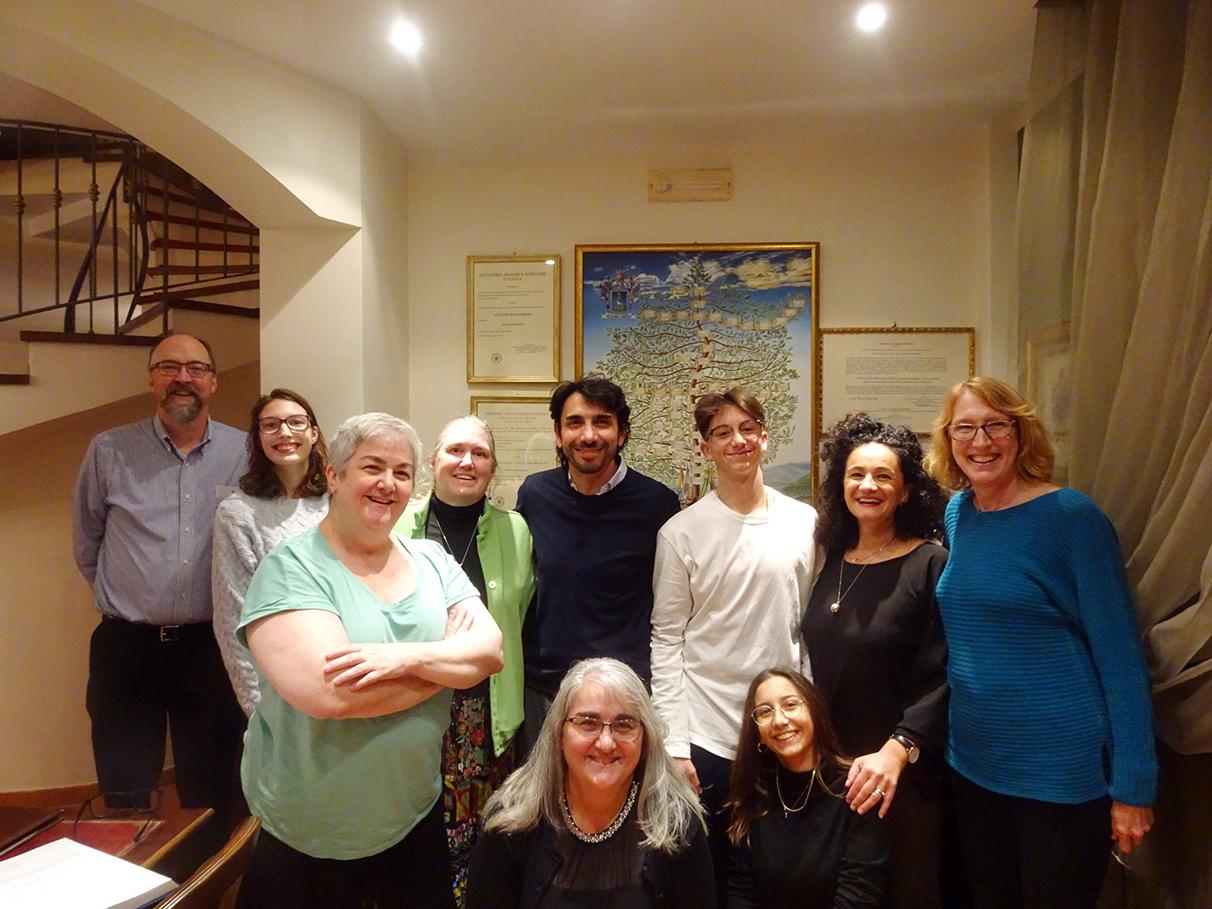 Then Alfonso pulled out the "report" that an Italian genealogist prepared for him of records going back to the 1300s: a 3-inch thick, bound book, on archival-quality paper, with pages that fold out and flip around, xeroxes of some documents, raised-seal (legally legitimate) copies of others.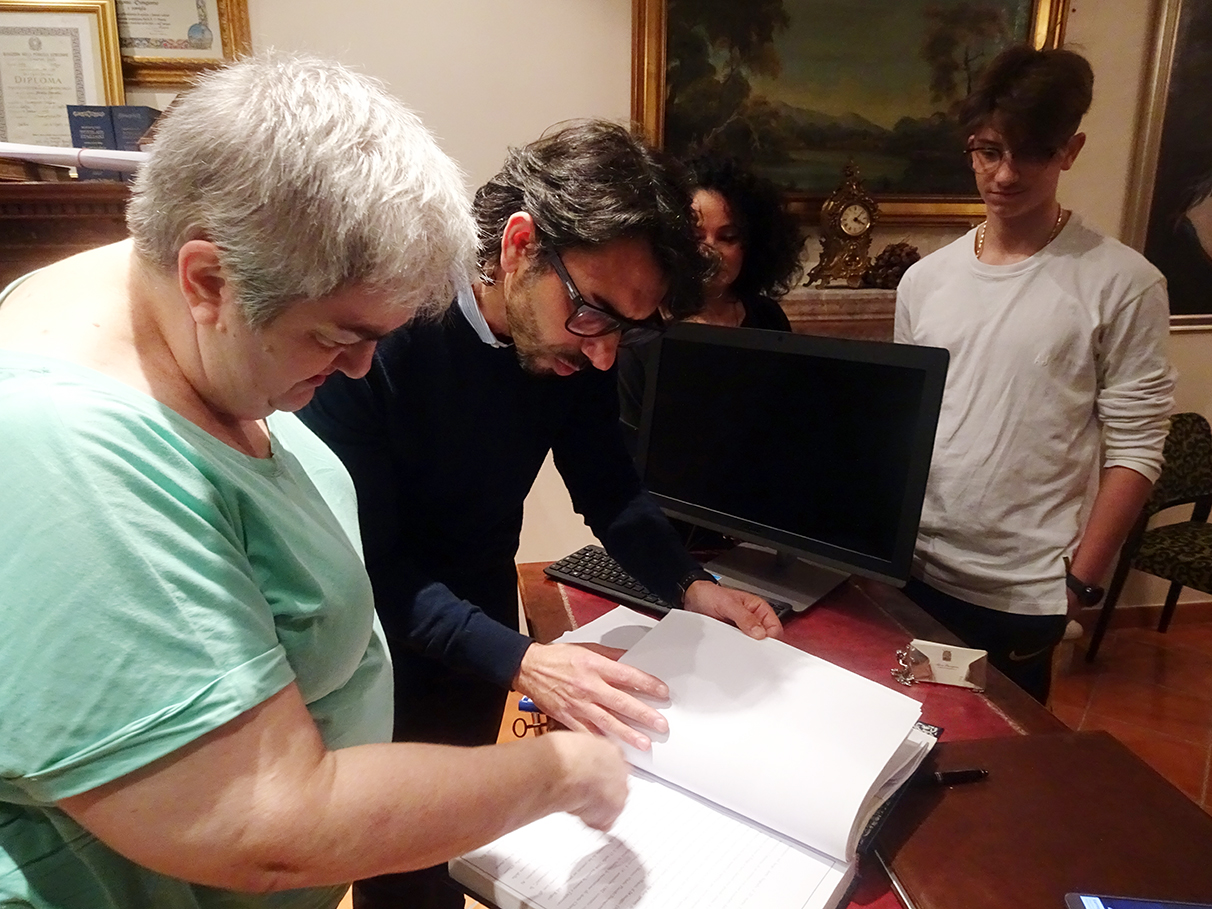 My cousin Lisa said later, "I kind of blanked out there for a few seconds, because I can't even conceive that anyone's ancestry could be known back to the 1300s."
Alfonso turned to a page he had marked in advance and said, "We are Jews. Conversos from Spain."
He pointed to a line he had underlined. "The family name Buondiaz (Bonadies in Ladino) was translated to 'Buongiorno' in Italy." (Spanish, Ladino and Italian, they all mean "good day"—which is used for "hello.")
My family members' jaws dropped; I smiled with pleasure. I had heard of this possibility before.
Years ago, an Italian art dealer told me that Buongiorno might be a Jewish name, explaining that "conversos"—Jews who converted to Catholicism in Spain during the Inquisition—were also forced to change their Jewish-sounding family names. They often "hid in plain sight" by choosing very common words from the local language for their new last names, such as "hello, goodbye, good day, good year."
Alfonso explained that the family were tanners in Spain. When they left Spain in the 1300s, they went to the tanning center of Italy: Florence. After being there for a few hundred years, a Solofrano land owner (baron) offered them a deal—land for tanneries, plus favorable terms (probably in exchange for substantial taxes)—to move to this place in the south that had the necessary raw materials (goats, sheep, water) to set up a competing tanning industry.
They have been successful. Florence and Solofra together produce 60% of the leather that is used by the Italian fashion industry today.
Now I understand why Mimma De Maio—the Solofra historian who wrote solofrastorica.it—did her Ph.D. dissertation on the "medieval" tanning industry of Solofra. Because that's when the industry started in this town; her paper is about the entire history of this defining industry of this southern town.
And now I really have to learn Italian, so I can read that paper, and more of her website.
Alfonso's family are still tanners. He and his father and brother own a tannery in town.
At some point, "my" Buongiornos, the ones descended from 1700-something Michele's brother Biagio, left tanning, and by the 1800s, were tailors, barbers, midwives and artists (which I know from my Mormon Family History Center research.) Why and how, I don't know. As always with genealogy, answers to questions beget other questions.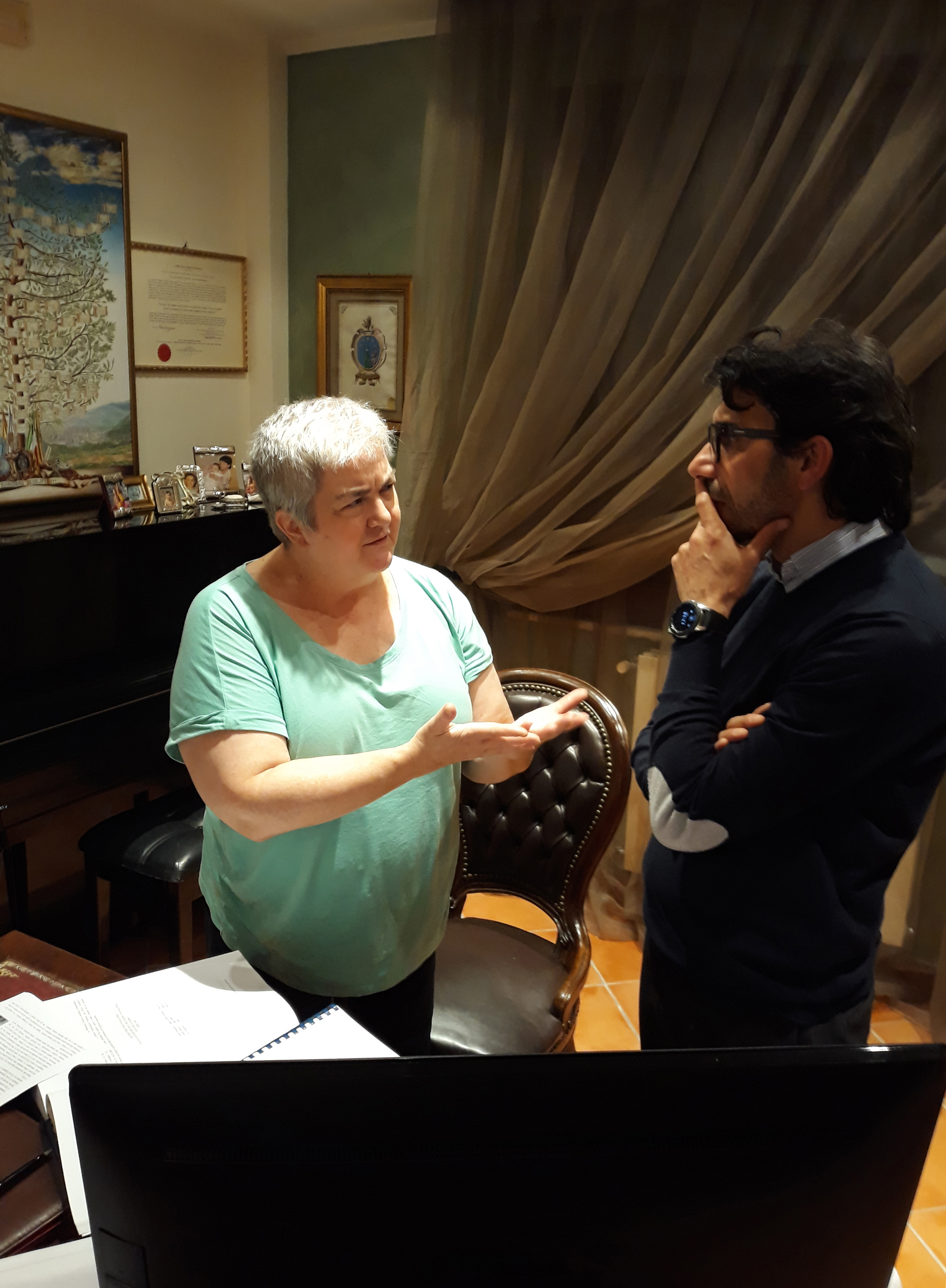 We are hours into our visit. Alfonso and I can go on about genealogy indefinitely, but our family members are ignoring us to eat snacks and talk about other subjects. Both teenagers are still in attendance, engaging with the American relatives they were sure would be bores.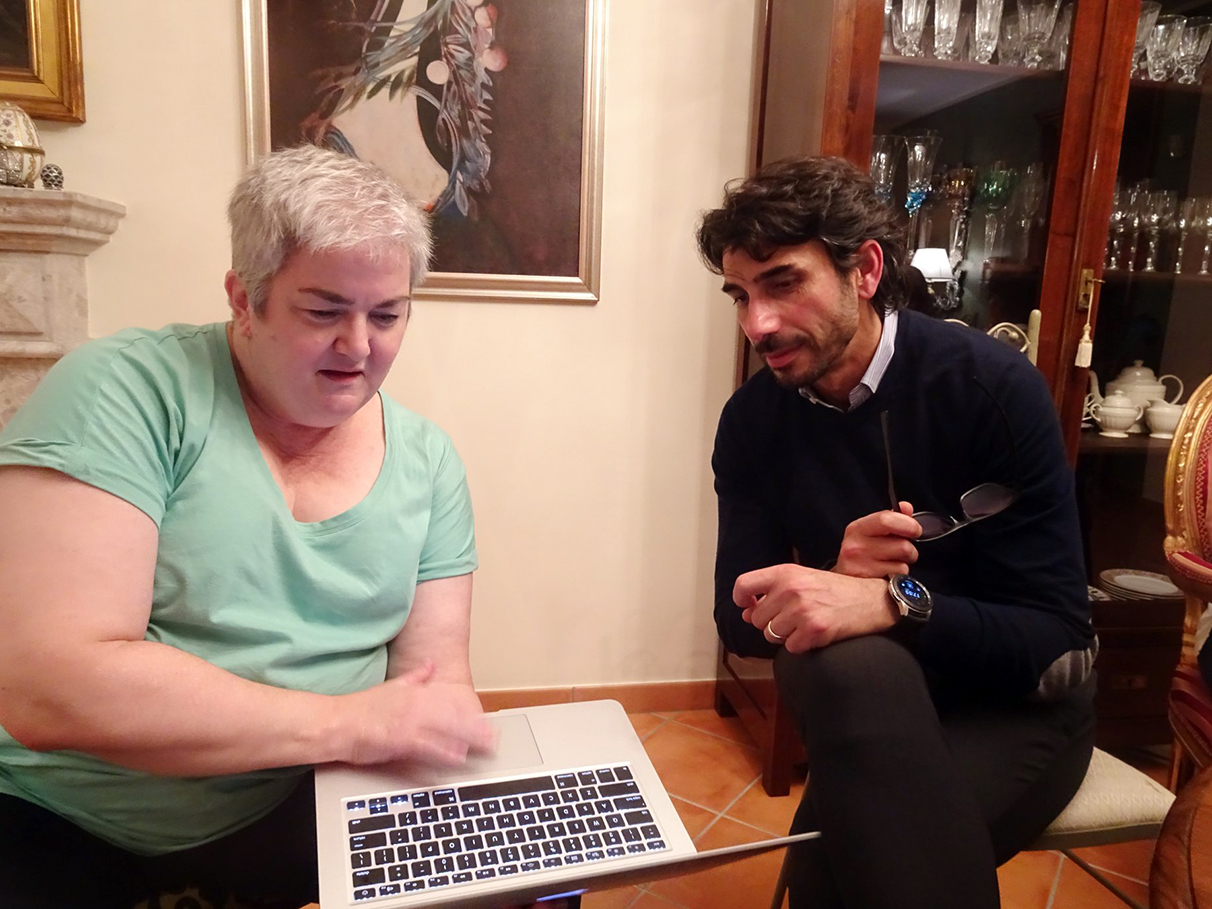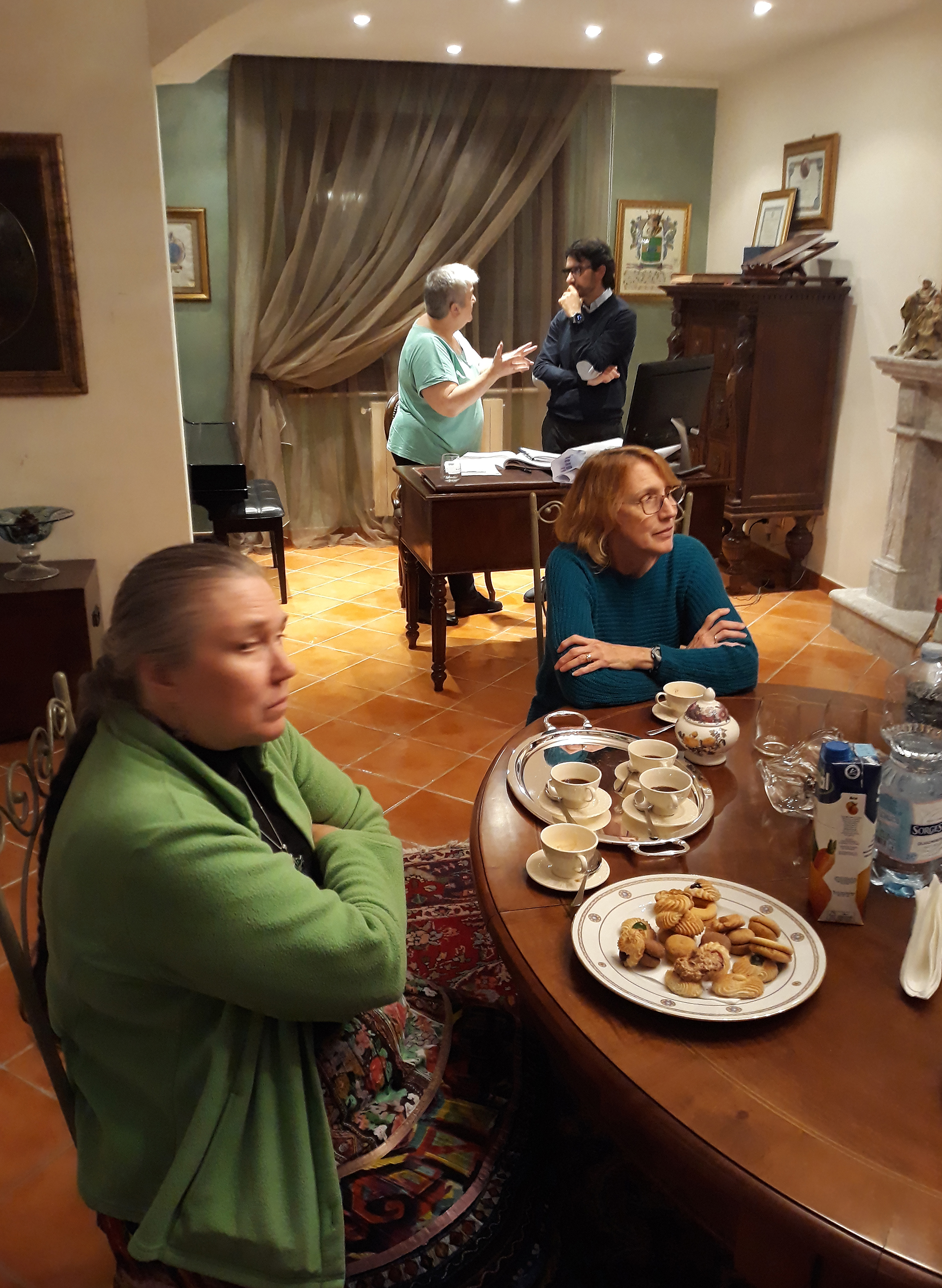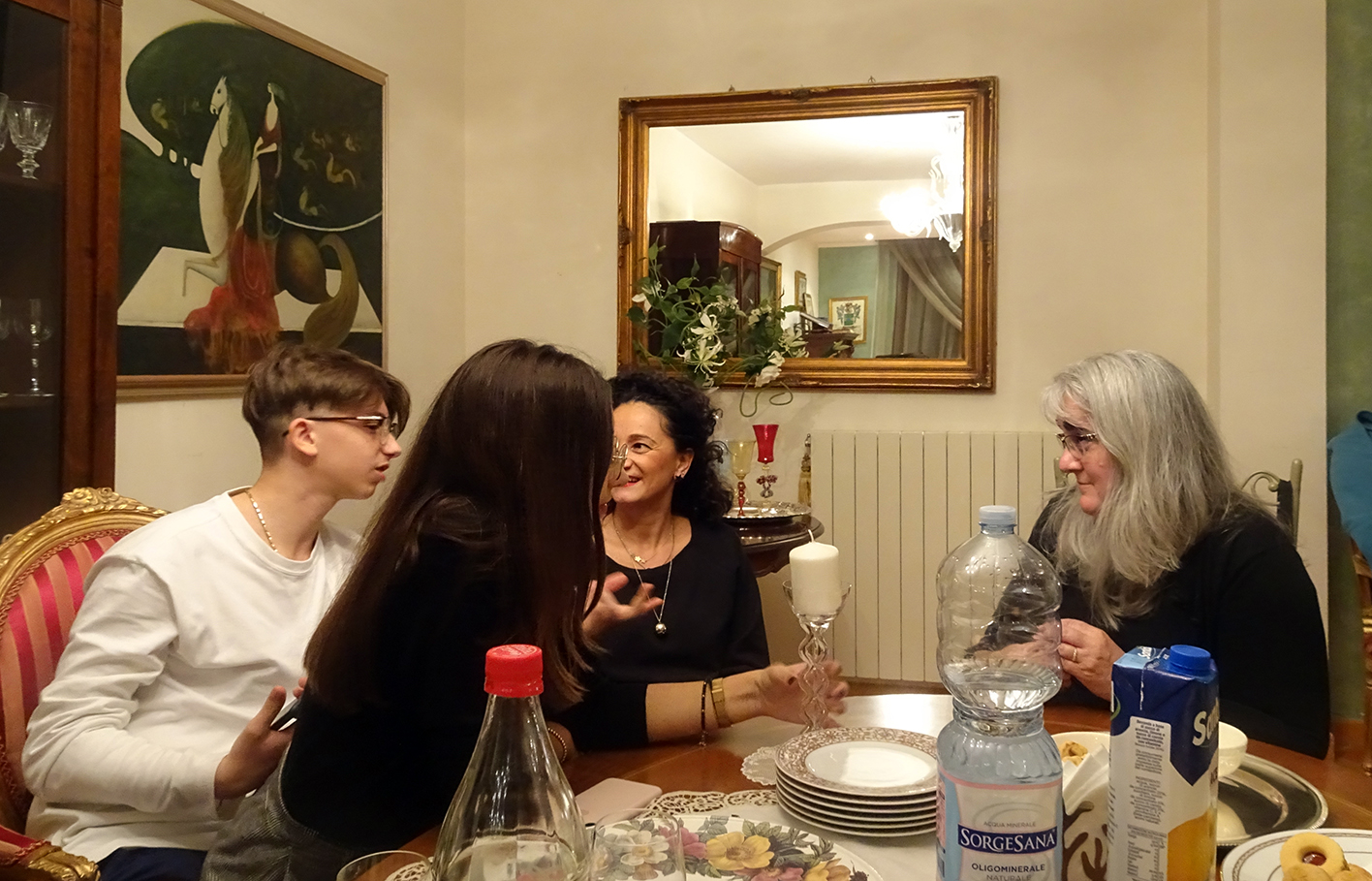 ————————
I would like to pay back Alfonso for his hosting and overall wonderfulness by finding him leads for selling his leathers, and this is where you, dear readers, can help.
The tanning industry in Solofra took a serious hit with the 2008 worldwide economic downturn, and Chinese competition is edging in. Alfonso needs a customer who can not afford the time and interruption lost to bad deliveries or not receiving enough usable product to fill an order—someone who will pay a higher price to get reliable product on time. We are looking for a very high end fashion/luxury wholesale customer: a manufacturer who makes gloves, clothing, shoes, wallets, belts, etc.
Do any of my readers know of such a customer? I would not be involved other than to pass a name and phone number to Alfonso's sales rep in New York. Please use my email or phone to contact me, both are visible all over my websites, and THANK YOU.
————————
Thanks to my sister, Loraine Carapellucci, my brother-in-law, Dave Handley, and my cousins, Julie Holm and Lisa Hamm-Greenawalt, who shot the photos in this post.