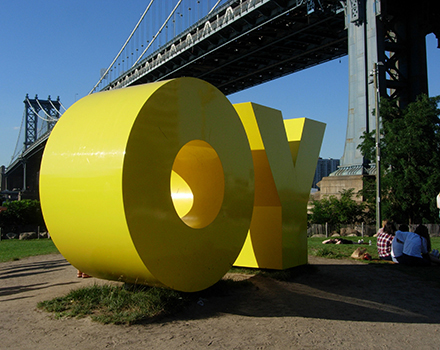 I LOVE THIS SCULPTURE which was installed in Brooklyn in November 2015.
Its words, color, typeface, scale, location, siting—everything about it is perfect.
Perched on a promontory on the East River waterfront in DUMBO, when you stand on its east side facing Manhattan across the water, "OY" labels the Lower East Side, first New York home of Yiddish-speaking Jewish immigrants in the 1900s.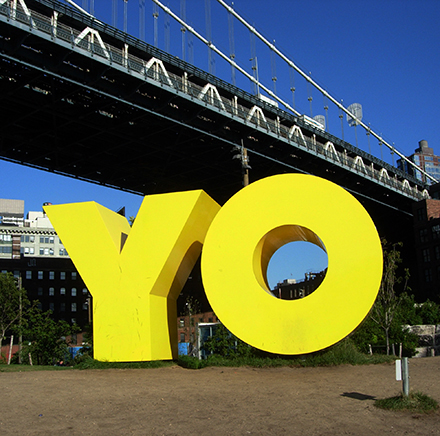 When you stand on its west side facing Brooklyn, "YO" labels the borough of Brooklyn, past and current home of every bad-ass cultural group in New York ever.
A two-letter palindrome that encompass the entire history of New York, it's the model of succinct communication. Both mind-bogglingly conceptual and ridiculously simple, this baby has something for everyone—semantics, semiotics, design, communication, cleverness, fun, silliness.
Overhead, ear-splitting B, D, N and Q trains roar over the Manhattan Bridge every few minutes, providing the perfect soundtrack for contemplating inter-borough connectedness.
Call me contented.