I've been an antiques lover and thrift shop buyer my whole life. I was born to be an eBay shopper and registered at the site early on.
My first use was for an appraisal. I had just finished telling a friend how eBay was an always-open, 24/7 flea market, when I wondered out loud about the value of a pin I owned which I had purchased years earlier in a thrift shop.

She said, "Well can't you look it up on that site?"
Ding, ding, ding! Lightbulb! I had never considered using the site "in reverse." Janice is off and running.
I found a completed auction for that pin (value: $12), and there were others similar to it that I liked, and…before you knew it…from the sparse beginnings of a few measly items I had picked up here and there over the years…within a year I had a sizable collection of vintage 1900–1950s costume jewelry.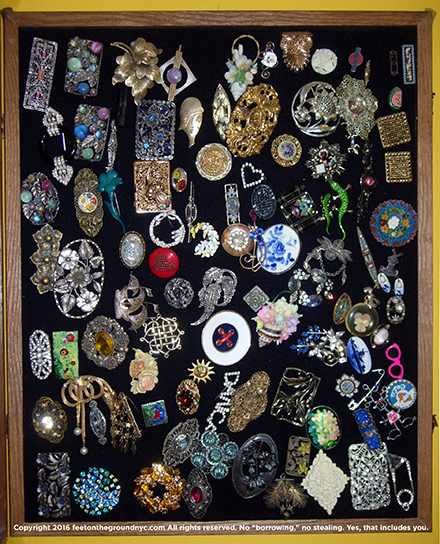 More important, I had something fun thing to do when I wanted a mindless "wind down" activity. (I'm not a t.v. watcher.)
I learned about vintage jewelry from sellers. In time, I could use the word "parure" in a sentence and knew when the c-clasp and trombone lock gave way to the locking c-clasp.
For years, my eBay transaction budget was in the single digits, shipping included. Yes, people, eBay was cheap in the beginning. Fees were low and the U.S.P.S. hadn't cottoned on to what the site was going to do to its business.
I was amazed at the prices of "better" product and remember scoffing: $40 for a piece of old jewelry? No way.
Well, every collector has a story about the one that "got away"—something they hesitated about buying or didn't bid high enough for.
Mine was a pin composed of a glass (actually plastic) leaf with a silver edge (turns out it was gold, "gold-tone," that is, not real gold) and "diamond" (rhinestone) accent stone. I saved its photo, as a friend had taught me that sometimes a collection of photos of beloved items can be as satisfying as a collection of the actual objects. (That was a good lesson in frugality: You don't have to own everything you like. Knowing that it's "out there" somewhere can be satisfying enough.)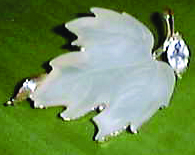 But that pin kept singing to me. For years I heard it calling. You want it. You want it. You neeeeeed it.
Eureka #2: One day it hit me that the person who owns it will die, and that pin will probably reappear on eBay. So I set a search URL and checked it periodically. (Don't ask how many other "leaf" pins I've purchased since.)
Success. Last week, the pin reappeared "from a prominent estate in Tampa." In higher resolution, it didn't even look as tempting as I remembered (or fantasized, let's be honest), but of course I had to buy it. Ta da!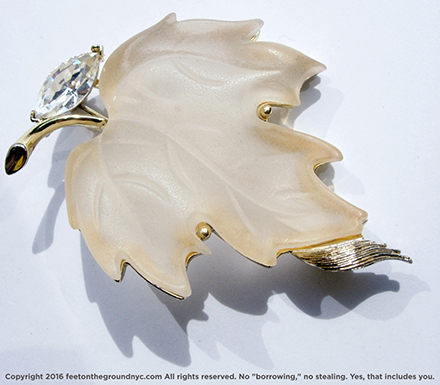 So, if any of you see items in my collection that you pine for, shoot me a note and I'll put it with the Letter to the Executor. You'll get first dibs on acquiring it directly, and my estate will save the eBay fee.
We all die.