Family Genealogy Trip to Italy.
Day 5: Tuesday, 23 Ottobre 2018.
Napoli, Campania: Palazzo Zevallos Stigliano, Via Toledo.
In the week before my family arrived in Naples for our "roots tour," I viewed every collection of 19th c. paintings in the city, part of ongoing research of my ancestor painter Donatus Buongiorno—wanting to "see what he saw" and understand his visual education.
The collection at this mid-sized gallery includes a "famous" maybe-Carravagio, 17th- and 18th-century paintings that would have informed Buongiorno's work, as they were most likely on view somewhere else in Naples (possibly Museo Pignatelli) when he lived and studied there. This gallery, opened only a few years ago, is a re-arrangement of paintings owned by a Neapolitan bank.
Plus, the gallery is in a former palazzo, and I'm always a sucker for architecture.
Rooms of more recent art contained late-1800s pieces by Buongiorno's contemporaries and teachers from the Accademia di Belle Arti di Napoli, including a beautiful bust of Domenico Morelli (by Vincenzo Gemito, number 8 in the slide show at the bottom of the website page), an influential art educator of Naples who was an instructor in painting at the art academy when Buongiorno attended and who later became the academy's director.
Unexpectedly, I was jolted, and thrilled, to see pride of place given to a painting by Francesco Guarini (or Guarino)*, 1611-1651 or 1654, who was a painter from Buongiorno's home town of Solofra, Avellino.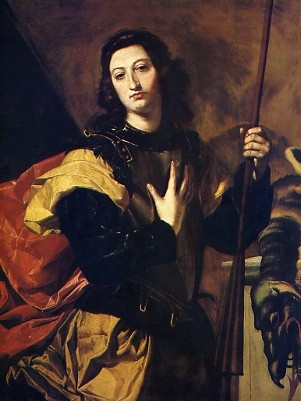 Giovanni Tommaso Guarini and his son Francesco Guarini painted the murals on the ceilings of their famous, 17th c. Neapolitan Baroque hometown church La Collegiata di San Michele Arcangelo.
If nothing else, having this painting in this gallery's collection helps secure Guarini's importance as a southern painter and draw some attention to him, and to Solofra, in the big city of Naples.
*There's debate over the painters' last names being Guarino vs. Guarini. Here is a Google translation of the last paragraph of the Wiki article:
It is not yet known precisely what the last vowel of the original surname of the artist is. Although this debate, reopened on the occasion of the celebrations for the four hundred years since the birth of the Solofrano painter (1611-2011), seemed to converge towards the final choice of "Guarini", some scholars reiterate the thesis that it should instead call it "Guarino". In the publications of various authors both definitions are used, therefore it is possible to define both Guarini and Guarino, without making mistakes.
As there is a Guarino in my Troisi family tree—Maria Vincenza Guarino, 1824-1866 or 1883, mother of Beniamino Mimi Troisi—I declare her to be a descendant of these two painters and, hence, another source of the substantial artistic abilities manifested by multiple generations of my family.