Family Genealogy Trip to Italy.
Day 11: Monday, 29 Ottobre 2018, a.m.
Napoli, Campania: Stazione Garibaldi, Metropolitana Linea 1.
Headed back to the apartment, I arrived at Stazione Garibaldi to the most taxing experience of my trip.
The ascensore (elevators) and scale mobile (escalators) were out of service, and men in uniforms with reflective safety vests were pointing people to the stairs. I couldn't understand the guy's explanation and figured I was being subject to an infamous Italian sciopero (labor strike).
The damned station is at least 150 feet underground and features four sets of elevators and four sets of stairs criss-crossing each other in a single, giant well that is open from the ground level to the tracks. I don't like heights. The first time I exited Garibaldi station, I experienced nasty vertigo on the very long escalators out—which is why I had switched to using elevators (where you can't see how high you are.)
This is the best photo I could find that is copyright-free (Thank you, Alpha 350.) Google other photos to get a stronger impression of how steep and dizzying these escalators and stairs are (45-degree angle.)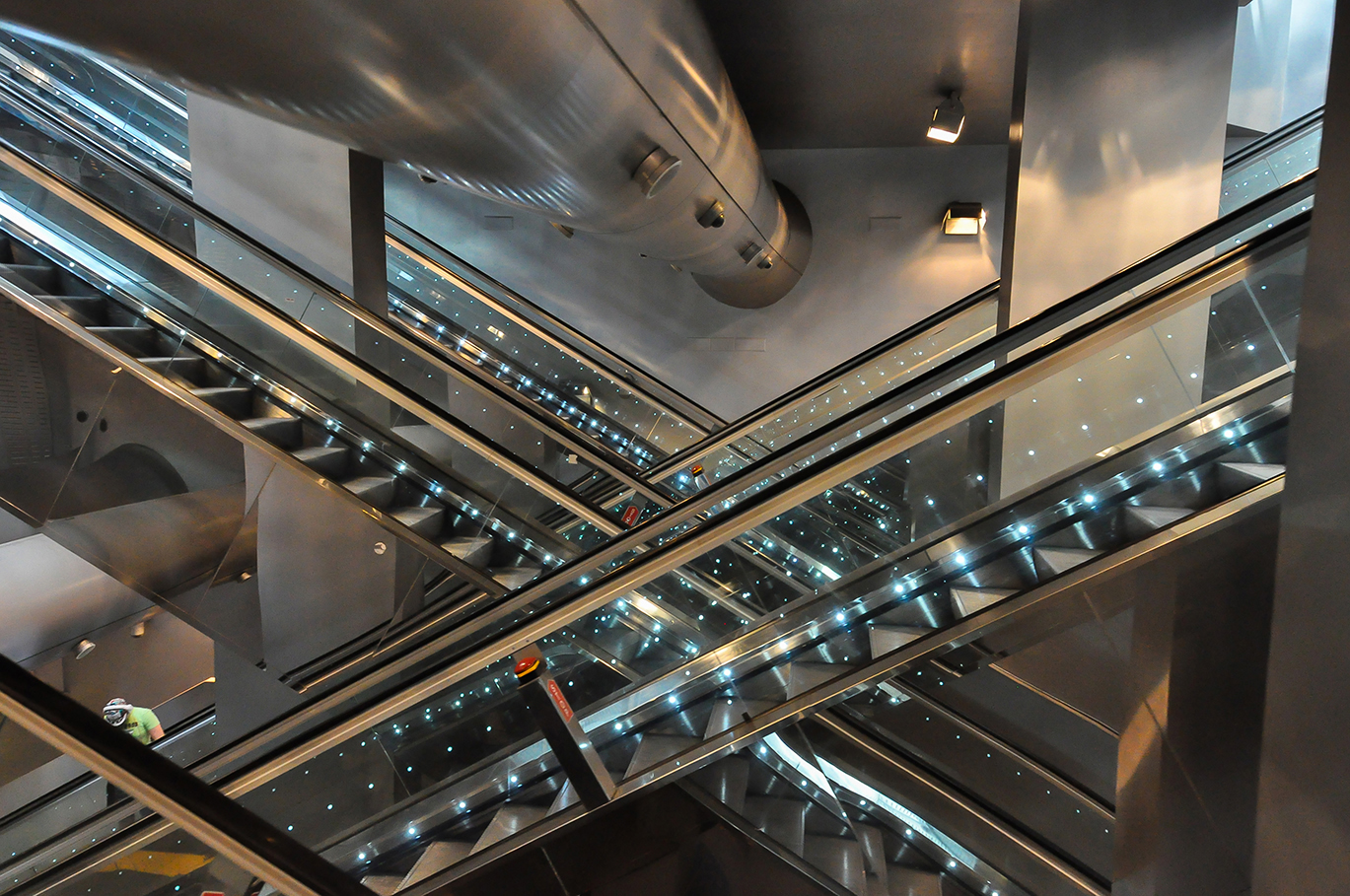 I said to myself, "Janice, pretend you have to do this to save your life, and just do it. Don't look up, don't look out, just look down at the stair treads until there are none left." Resigned, I inhaled deeply and started up. It took about 10 minutes and wasn't that bad, though I did have jelly legs for the rest of the evening.
I found out later the station was hit by a power outage.
During the 30 minutes that I was on the train, the whole city had been hit by a violent, windy thunderstorm—power lines down, roofs blown off, etc.
It was even reported in the New York Times, several friends from New York told me, with the mayor of Naples, Luigi de Magistris, calling it "an atmospheric earthquake," whatever that is.
The lights in the station (of which there were plenty, no fewer than usual) must have been running on emergency generators. When I realized that, I wondered if the train had been running on generators, too, and quickly changed my attitude to "sure glad the damned thing made it into the station."
I've worked for railroads, and I've taken their safety classes. I can tell you—enthusiastically—that I would be satisfied to never in my life experience walking in a train tunnel, in the dark, between tracks, with train personnel instructing me how to avoid hitting the third rail—thank you!
As the seven members of our party each arrived back at the apartment throughout the afternoon, we traded stories of waiting out the storm in museums, seeing loose pieces of roofs on the sidewalk in our neighborhood, and, for the family members who had returned to the apartment before it all started, closing the outside metal shutters and grilles on the windows, because the wind sounded strong enough to blow out the glass.
Later that night, we went out for pizza, and everything was more or less back to normal, surprisingly. Napoli has survived volcanoes. Not much else affects Neapolitani, apparently.