Heh, family members, the James V. Brown Library's database of Williamsport newspapers is up and running, and it has results for us!

Finally we can narrow down the date when our ancestor Domenic Troisi answered that help wanted ad for a job at Penn Garment Co. and moved to Williamsport, because he is listed in a Williamsport city directory dated January 1, 1914 — as "designer" boarding at 166 Mulberry. See it here:
https://jvbrownpublic.advantage-preservation.com/viewer/?k=troisi&i=f&by=1914&bdd=1910&d=01011910-12311919&m=between&ord=k1&fn=city_directories_usa_pennsylvania_williamsport_19140101_english_1973&df=1&dt=1&cid=2885
He would have known how to get listed in directories from his uncle Donatus Buongiorno (who was listed in New York City directories throughout the 1890s– 1920s) and possibly from his own father. One of my dreams is to find a listing for Beniamino Troisi in a Naples directory before 1907 (when the family left the country).
So Domenic came to Williamsport sometime in 1913: after the January garment industry strike in New York in which he participated, after completing a class at the Mitchell Cutting School in January and February, and after trying a job in Jamestown, New York, during, what, the spring/summer of 1913?
He answered a help wanted ad in a New York City paper, but I suspect it would have been run in a Williamsport paper, too. Who wants to look for it? They these key words: Penn Garment Co., Weightman Block, cutter, pattern maker, designer, supervisor, postal uniforms, Plankenhorn (his supervisor, may have been named in the ad). Read more
here
.
He starts his business in February of 1919:
By October, he is placing display ads in newspapers.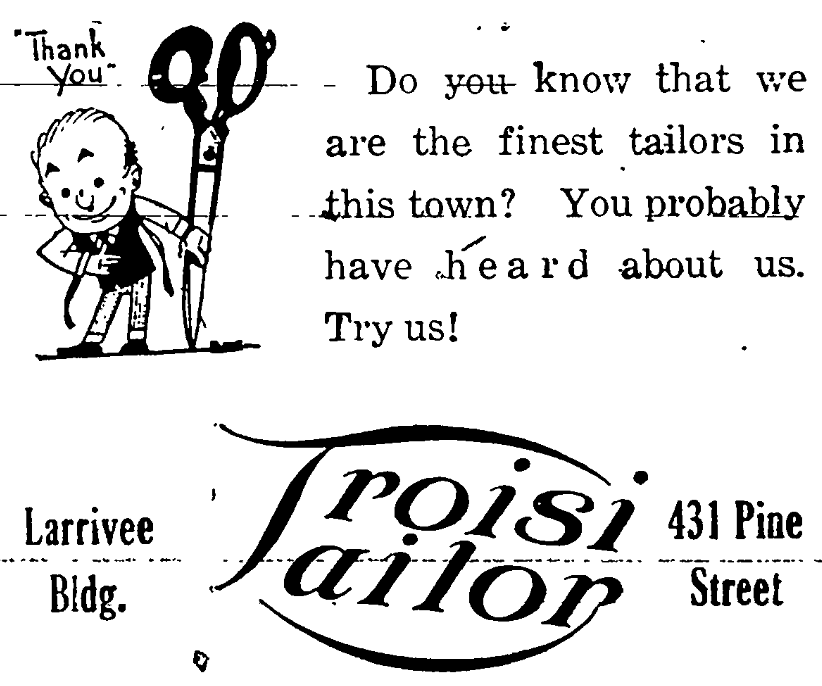 In November, "Troisi the tailor" gets an above-the-fold headline for supporting the Red Cross:
And probably participated in closing stores at noon for Armistice Day on November 11 — before it was an official holiday.
We know from Domenic's memoir how close he came to fighting in WWI in 1918 — his boat from Liverpool to France was turned around mid-channel when the armistice took effect at 11:00 a.m. on November 11, 1918. I can only imagine how thankful he felt on this anniversary of the day.
And less the hard-headed business man than in November 1946, when my parents were married on Thanksgiving Day, because "the store was already closed that day, and Dad didn't want to close an extra other day" (for a family wedding). Special shout-out to Marg, who was still complaining about that decades later to her own kids ha ha ha!
I searched 1900–1919 today. There are 26 hits on "Troisi," and they are not all for Domenic. Come on, people. Give it a go, and see what other goodies are hidden in there!
And who wants to dive into 1920 to find announcement of Domenic Troisi's naturalization and wedding? I'm really curious to see how much "editorial" the editors of these newspapers rewarded to their new, eager, paying advertiser Troisi when he had something to announce.
Tip: In the search results, click on the name of the newspaper to go to a PDF of the page. (Not explained anywhere. I figured it out based on sort-of directions at the website of the vendor of the database program.)